Facebook Ads – what's it all about? I answer your questions here.
Over the last few weeks, around 250 independent estate and letting agents have completed my survey about Facebook Ads. I learned some interesting facts! For example, less than 20% of you have ever tried Facebook Ads, but 87% plan to start advertising on Facebook this year!
I've gathered together the questions that came up again and again, and added my best answers here.
If you're interested in knowing more, I'm running the first of its kind, Facebook Ads Programme, just for independent estate and letting agents. Here's the link to check out what's included: Facebook Ads Success Blueprint.
Spend
1. How much should we budget per month on Facebook ads?
I suggest you start off with a budget of around £150 a month, until you know what works, and what doesn't. If you are getting results, in terms of clicks, subscribers and email conversations, then start increasing your budget, slowly. My Facebook Ads Blueprint works on a £300 monthly budget, to give you short-term, medium-term and long-term results from three different Ad Sets.
2. How long should a Campaign be? 
It depends on the type of Campaign you're running; a Page Promotion Campaign can run on and on, in the background, collecting Likes for you, and may never run out of steam. A Click to Website Campaign may stop delivering after just a week or so, so it's really important a) to have a 'maximum tolerable cost per action' determined before the Campaign starts, and b) to monitor your ads on a daily basis to check for ad 'fatigue', and therefore, rising costs.
3. How much should we spend per click or engagement? 
The amount you spend on each action will vary hugely, depending on how good your ad is, how specific your targeting, and how compelling the click is. That said, I do have some benchmarks for you to test your own results against:
Click to website – 5p – 40p (if no opt-in is required)
Page Like – 40p – 60p
Ebook download – £1.00  – £2.50
Completed online valuation form – £1.50 – £3.00
Types of ads
4. How do you upload your own data and what do you do with it?
To upload your own data – that is, your customer list, database, or any other list you own, go to your Ads Dashboard and click on the three lines top left. This opens up a menu across the top of the page. Then go to Assets > Audiences > Create Audience > Custom Audience and you'll see you have the option to upload a .csv list there.
Once you've uploaded your list into Facebook, they will match the emails or phone numbers in it to their users, and you'll get a match of around 40-50% on average. When you next create an ad, you can use this audience for targeting.
5. How do we specifically target demographics and smaller scale locations?When you are setting up your advert, you can choose the location and a map will appear. The default geographical target area is 10 miles, but if you drop a pin, you can then reduce this to just a mile. 

6. What are the best performing ads? 
Adverts that look like a post from a friend, but still have a compelling call to action. This isn't an easy balance to get right, but if your advert looks like an advert, it's much less likely to get clicks. Make sure your image, text and style all look like something you'd want to see in your own newsfeed.
7. How can we use video ads on Facebook?
Video ads are currently really cheap to run. Facebook loves video, and feels that video ads give their users a better experience in the newsfeed than static ads, and this is reflected in the price you'll pay for video versus image ads.
Try using a video ad for a quick tip, market comment, or introduction to your latest blogpost. Don't forget that the sound is off, so you'll either need to add captions to the first few seconds, or make sure that the beginning of what you're saying isn't vital!
Conversion
8. Obviously we want to encourage people to book a valuation but how do we do that from cold traffic? 
Your goal with cold traffic (i.e. people who are not connected to you or your brand in any way, and who probably have never heard of you) is to warm them up. Each action that you ask someone to take should be a micro-commitment; something that is easy for them to do and still carries a reward for that action.

Once they have taken that action – be it a click to a blogpost, or liking your page – you can then re-target those people to take another small action. The warmer your audience becomes, the more likely they are to take an action, so it's important to determine in advance the journey you want them to take, with the steps all planned out, so you know what you are trying to achieve with your Facebook Ads.
9. How do we use Facebook Ads to get the phone to ring for valuations?
By taking your audience on a journey, from the first time they 'like' your page, to maybe downloading your ebook, and then responding to an email from you. Start that conversation right, and you'll not only be the first across the door, you may be the only agent they will want to see.
Other
10. What is 'reach' on our page?
Facebook displays your posts in the news feed (where other people can see them) based on relevance. Someone may "like" your page but that doesn't mean all your future posts will automatically show up in their news feed. If you've 'liked' 100+ pages and all those businesses posted three times a day, you'd never see anything in your newsfeed from your friends. Instead, Facebook show your new posts to a sample of the people who "liked" your old posts. If that sample responds positively by clicking, liking or sharing then the likelihood of your new post showing to more of the people who liked your past posts increases. The key to reaching more people is engagement. This means you need to create content people like, share or comment on.
11. Should we outsource our Facebook Ads management?
Outsourcing your Facebook page can be a really good investment. (I have a wonderful lady who I recommend if you're on a budget; email me if you'd like her details). It's also pretty cost-effective to do. However, Facebook Ads management is a really specific and skilled service, and that comes at a price. Expect to pay around £500 as a set-up fee, and around the same amount each month to service your account. And that's in addition to your ad spend.
My advice is to know what you're doing first, before you outsource it. Once you know what works with your audience, handing it over to someone else will be more effective and eliminates what could be a very expensive trial and error period.
12. How can you help us with our Facebook Ads, Sam?
Good question! I've created a brand new and unique training for estate and letting agents, to show you exactly how to use Facebook Ads to build your business and increase market share.  To find out more, click here.
Facebook Ads can be a huge wasted spend, or the best investment you ever made. It's all in the tactics you use. If you'd like to talk to me about your Facebook ads plans, drop me a line here and if I think I can help you, we can have a chat.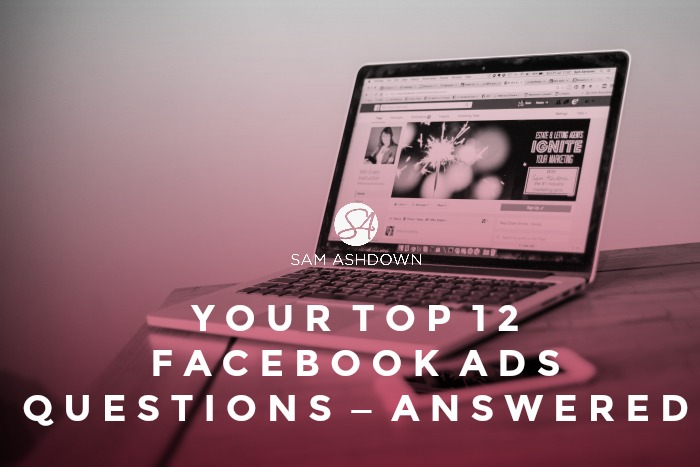 What to watch next: Facebook Marketing for Estate Agents – (Marketing for Estate Agents Tips)