Do you want to increase your revenue but you're not sure where to start?
Have you set turnover goals for the last few years but the needle has barely moved?
Maybe you want to find new sources of income without increasing your resources and expenditure?
I know how you feel.
I've been coaching independent estate agents now for fifteen years, and your financial challenges are true of almost every agent I speak to.
Over the years, I've helped many agents to improve their revenue, increase their profit and reach their business and personal goals through simply having more money left at the end of the year. Maybe I can help you too?
In this article, I'm going to show you how to use a simple but powerful framework to plan for your most profitable year ever. It's the same framework we used to launch and grow our Lake District estate agency, AshdownJones, and we continue to use it today to make sure that we dominate our target market and create the revenue we need to grow.

Ready to transform your revenue?
Good. Here we go….
Let's start by setting your goal:
What do you want to achieve, in general terms? What's the bigger picture? Maybe it's something like this:
'To increase our fee value.'
This is a good, strong goal but to make sure it's measurable – in other words, that you'll know when you've achieved it – you also need to define your objective. This is what you want to achieve in more specific terms, and needs a financial amount, or a number, or both. For example:
                        'An average fee value of £10,000.'
Great. Now you have a measurable objective to support your goal, it's time to move onto how you're going to get there. This is your general strategy:
                        'By selling more high value homes'
This is a confident and robust strategy, that everyone in your office can get behind, to make sure you achieve your goal and objective this year. Now you need to identify the tactics you will need to take you there. Here are some suggestions:
                  Offer premium brochures
                  Use a lifestyle photographer
                  Learn how to style homes and buy some accessories
                  List a high value home for free so we can use it as a case study
                  Don't list any low value homes on our Facebook page or other social media
                  Create content that talks about marketing high value homes
Now we have our goal, objective, strategy and tactics, let's put them in the framework I promised you: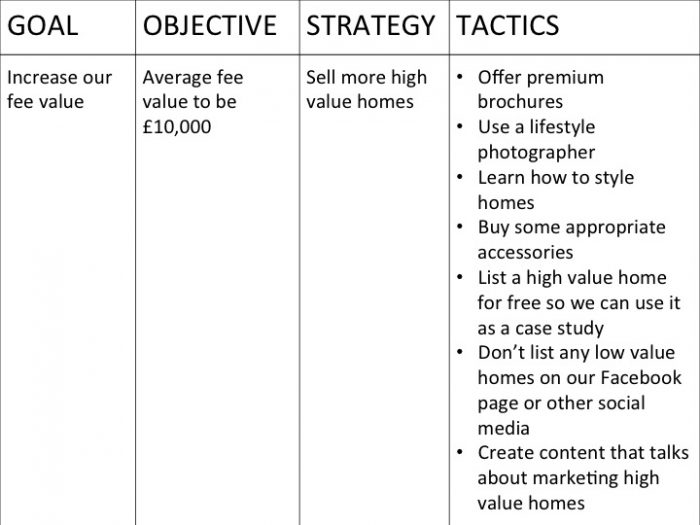 Structuring your business goals like this makes them clearer and easier to follow. You can see exactly what you need to do to achieve them, and where you're headed. Because it's a beautifully simple plan, you can share it with your team, and have it printed big and bold for the wall, to keep your eye on the prize.

Take the first step towards transforming your revenue
How would you like the opportunity to map out your revenue strategy for the next year, with me, on a free call?
This month, I'm offering a handful of chances to do just that. If you tell me a little about your business here, I'll be back in touch asap to let you know if we can book a call.  In just 45 minutes, you could change the future of your business forever. A wise coach once did the same for me, and gave me a single piece of advice that earned me £40k in the next 8 weeks, and £250k in the following year. I'll be eternally grateful I seized the chance; without it, my business would not be where it is today.
So do it now – click the link, and take the tiny step that could give you huge rewards for years and decades to come.
Sam