What is a USP?
It stands for 'unique selling proposition' but this is a bit misleading. You see, your USP is nothing really to do with selling, and everything to do with differentiation – being 'unique'. It's also not about being the best; this isn't a comparative measure; it's what makes your company stand out, not from your point of view: but from your client's point of view.
It's not about being the best
I spoke to an agent recently who told me that in his town of 6 agents, he was truly different. "How?" I asked.
He went on to tell me that every other agent in his town was open until 5.30pm.
When was he open until?
"6pm!" he answered with relish, clearly very pleased with himself.
"That's not different", I told him. "That's longer".
The trouble with longer, is that it can be replicated. Before you know it, you'll be opening until 9pm, 10pm: where will it all end? Will you be taking a campbed into work because you daren't close?
He also told me that whilst his competitor agents display A4 cards in their windows, his are A3; "twice as big!"
How is that agent going to react when his competitors change their window cards for A2? Or A1?
The answer is that you don't compete at all. Instead, you become the best at something no one else is attempting.
Quick word of warning: I'm not talking about gimmickry. I know agents who give away 10% of their fees to charity, because they think this is a differentiator. It isn't. And let's face it, most vendors would prefer to keep the 10% for themselves, given the chance.
I know another prominent estate agent who promotes their agency with (rather flattering) cartoon images of them and their team. Different? Maybe. Something that their clients care about? I doubt it. Surely that marketing spend could (and should) be spent on marketing their clients' properties, not 'brand awareness' through a gimmicky campaign.
Promotion is only a small part of your marketing mix
Promotion is important, but it has to be defined by the context. Promotion alone can't make up for mediocre customer service, unimaginative content or the lack of a unique selling proposition.
Building a successful estate agency starts with how you show up. The way you help and care for your clients is a reflection of this, and extends through your content, (blog, website, social media, advertising, etc) services, client interactions and then finally to your promotion.
Attracting clients isn't something you do through your promotion, it's something you work on at every stage of your business, and your unique selling proposition is the first stage.
How to Find Your Unique Selling Proposition
Now you know what a USP is – and isn't – how do you define yours?
It could be that your USP isn't just one thing, but a combination of things. There really isn't one right answer, and given that we're in an industry where differentiation is a rare and difficult thing to find, even very small differentiators can lead to big successes.
Here are a few ways to find your unique differentiators. Use them as a starting point to get you thinking about how you can be different and stand out:
USE YOUR PERSONALITY
There's nothing more unique than you! And don't forget your team too; the mix of personalities and characters in your agency is your biggest USP, so make sure you use this to your advantage. Interesting 'meet the team' pages and perhaps a flexible dress code can really help you and your team shine, and will naturally attract the clients who are the best fit for you and your business.
EXPLORE IDEAS SEX
Interesting things happen at the intersection of ideas, or as James Altucher likes to call it, 'Ideas Sex'.
Mix collective buying power with the social web and you get Groupon; take our taxi needs and blend them with the power of our smartphones, and you get Uber.
The great thing about mixing ideas, is that you don't have to reinvent the wheel, just take two existing ideas and add them together. Like Gavin Juniper did at Housepresso in Kentish Town, when he opened a coffee shop and estate agency combined.
What idea sex could you have?
NARROW YOUR TARGET AUDIENCE
Who do you like working with best? Which types of properties have you had the most success with? The Apartment Company in Bath specialises in guess what? Yep – apartments. No houses, bungalows, castles or villas; just apartments. Peter Greatorex the owner, does one thing, very, very well.
Think about this from the clients' standpoint. If you owned an apartment and you lived in Bath, who would you be most inclined to call to sell it for you?
GIVE THEM WHAT THEY WANT – WHAT THEY REALLY REALLY WANT
Use your vendors and landlords as a filter to help you work out your differentiators, to make sure that what you offer is what they will truly value and appreciate.
Very few vendors will appreciate your branded cartoons, your extra newspaper advertising or your emails letting them know you've won a local award. But they may really value a free home stager visit, or a complimentary garden tidy every couple of weeks. Maybe they would find a free monthly sellers' clinic useful, when they can drop into your office and ask questions about their sale, even if they are not yet your vendors? Or perhaps what they would really value is some help project managing replacing their dated bathroom? Some clients would simply love it if you had their windows cleaned for them, before photographs are taken.
You don't need to give them the world, but what you do give them, could mean the world to them.
Do you get my Supertips? They're jam-packed full of great tips and marketing strategies, and best still – they're free! Get yours here -> www.samashdown.co.uk/supertips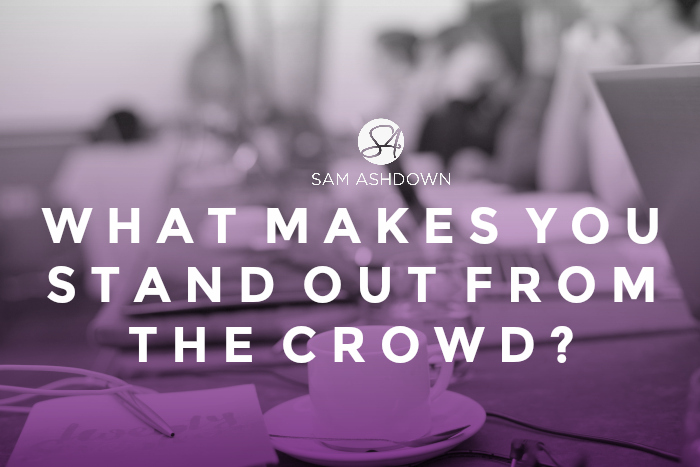 What to read next: How different are you?
What to do next: Do you get my Supertips? They're jam-packed full of great tips and marketing strategies, and best still – they're free! Get yours here -> www.samashdown.co.uk/supertips
Speak to Sam: If you'd like to know how I think you could improve your marketing, just answer a few short questions here https://samashdown.wufoo.com/forms/free-marketing-assessment-call/  and I'll tell you if and how you could be more effective.