As I write this post, AshdownJones is just over two years old. It's been quite a ride. Mostly good, though we've of course made some humungous mistakes too. You want details? Ok then…
For example, we took on a Business Development Manager after just 4 months, thinking it would free up our time so someone else could work on lead generation whilst we got on with running the company. As Julia Roberts would say, "Big mistake. Huge, in fact."
We've also invested in tons of software we didn't use… (hands up who's done that before?) as well as wasted money on direct mail with time-limited copy we can't now use.
But as well as all the mistakes, we got some things really, really right. And those things that worked have propelled us to the number one position for selling high value homes in the whole of the Lake District, where there's an estate agent for every 755 man, woman and child. Competition is fierce, pressure on fees is intense, and at over a million asking price, we're butting up against the big boys – Savills and Knight Frank.
Perhaps you have the same challenges as we do. Maybe you're trying to grow a teeny tiny agency, mostly on your own, maybe even from home, like we did. Or you may already have an established agency, but you know it's underperforming and could do more, you just don't know how else to compete for the best instructions, without slashing your fee.
So I thought it might be helpful to share with you, my lovely reader, what's actually working for us in AshdownJones right now, two years down the line, with a quality portfolio of 50 live properties, to bring in new high value instructions.
I've just analysed the last 100 properties we valued that came to market (we were instructed on 91 of them) to see where the enquiry actually came from, and what I found was that whilst 13% of them were from vendors we knew personally, and 15% of them were referrals, the other 72% all came from our own efforts. The top four sources were:
1. Direct mail
2. Content
3. Applicant conversion
4. Facebook (including ads)

Let's dive into each of these four, highly-profitable valuation-generating activities, to explain how we do each one. I've also added a quick win action you can take for each of these, so you can start seeing results straight away.
1. Direct mail
What it is: targeted letters, in envelopes, addressed to the property. (Aka NOT leaflets by the thousand!)
How we do it: we send out small batches of specially-written letters to those homes on the market we most want to list.
What to avoid: Sending only one letter. Our stats show that 3+ is where the real return starts, and our record is a whopping 13 letters to the same home! They eventually responded, we were instructed, and we sold the house. Fee: £14,000
Quick win: Make your letters LONG – the longer the better!
Total listing fees from our last 100 listings from Direct Mail: £211,965
2. Content
What it is: any medium you use to get your message out to your target audience, and to educate your future clients.
How we do it: We publish a blog a week, and use our '21 Step Repurposing Schedule' to distribute it in all media, and all platforms.
What to avoid: Don't forget your post once published; split it up and post it in small posts to make your content go further. Also avoid time-bound content; make yours as 'evergreen' as possible, so your investment of time and money goes further, for longer.
Quick win: Aim to write and publish a blogpost a month, 1000 words-plus. Find someone creative who can create graphics for it to represent tips and quotes from your post, so you can distribute it more effectively and drive more traffic to your website. (Or ask me about Firewave, where we do all this for you!)
Total fees from our last 100 listings from our content: £93,500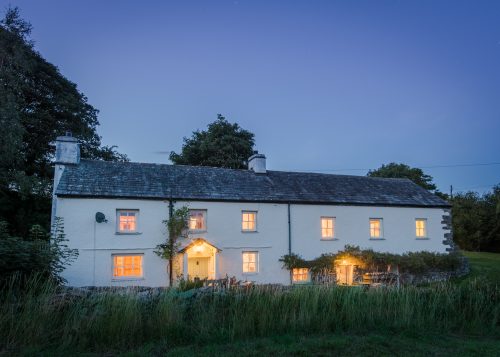 3. Applicant conversion
What it is: Converting a viewer or buyer to a vendor
How we do it: Our team are trained to ask the right questions at every opportunity, if the viewer has a house to sell.
What to avoid: Missing the opportunity to ask – every team member needs to know what's expected of them. As part of our team training, we conduct weekly 'Mystery Shops' to independent agents all over the UK. We get asked about our buying position in less than 25% of our calls. What a missed chance to convert an applicant!
Quick win: Have a prompt sheet for the person who answers the phone, and also for the viewers. Make sure they have to fill in the section on the sheet for every viewer.
Total listing fees from our last 100 listings from applicant conversion: £110,150
4. Facebook (including Ads)
What it is: All Facebook activity, both organic and paid.
How we do it: We follow our B.L.A.S.T formula. (Check out this post for details.)
What to avoid: Posting property ads! It's not what Facebook is for, and you'll get your page penalised for being spammy.
Quick win: Make all your team admins on your page, and print out this post for them to read so they know what to post.
Total listing fees from our last 100 listings from Facebook: £41,375
Want to know the total financial result from these four sources? Hold onto your hats…
These four sources of high value valuation enquiries have generated a total of £456,990 in listed and sold fees from our last 100 listings alone. Not bad for an agency open just two years, in an area where no one knew us, from a cold start. Oh, and we don't do lettings, so our sale fees have to support all our overheads.
Your fee source scorecard
I challenge you to do a quick audit of your last 100 listings – or however many you have – and enter them into this table. Then score yourself on your top four or five, and look for areas you can improve in.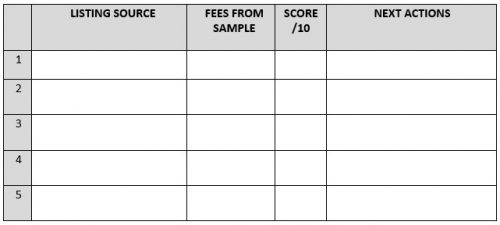 What we do for independent estate agents
We provide world-class lead generation for independent estate and letting agents, using technical sales letters and authority content – every single month – to help you get through more doors, consistently and profitably.
If you'd like a chat about whether you'd be a good fit to work with us, then let's talk.