How to get valuable PR opportunities to keep you top of mind and positioned as an expert in your local newspapers, and even in the national publications.
What is PR? You've heard the term, you probably know what it stands for, but what actually is it? Press releases? Features in the local paper? The mayor cutting a ribbon your new vinyl-wrapped car?
All three??
Fast Company defines PR as "the active maintenance of the perception and relationship between your company and the public." Sounds a bit complicated to me.
The Chartered Institute of Public Relations has this definition: Public Relations is about reputation – "the result of what you do, what you say and what others say about you."
Much better.
You could just define it as "What people say about you when you're not in the room".
Nice and simple.
But what can you do to increase and enhance your presence in the media? How can you court journalists so they can't wait to publish your latest news? Here are some rules to help you get PR right, and not waste time, effort and money when you're trying to get your news in print:

Rule one: your news must be interesting.
Your news is not your 'about us' page from your website. It's not how you've taken on two new members of staff this month, and nor is it that you've been given the contract to sell a new block of flats.

Rule two: have a hook.
You need an angle for each story you pitch. Your 'about us' page isn't interesting, but if you're an all-woman team, it is. Your two new staff members won't cut it as a story, but if one's the new youngest member of the team, and the other is the oldest, now that's a story. And that new contract to sell the block of flats? What's the story there? Did you have to fight off a couple of corporates to get the deal? Find the hook; tell the story.

Rule three: be professional.
No mud-slinging at your competitors, or taking a very controversial and potentially offensive standpoint on a sensitive local issue. You need to be above reproach, and professional in all your media pieces. That includes double and triple checking your spelling and grammar too, even if that means having a professional copyeditor work on it for you. You can't expect the journalist to do your work for you; it'll make you look bad, not them.
I've been featured in Bricks and Mortar, the Sunday Times, The Telegraph and House Beautiful, and each one came about by a different route. Sometimes it's just a bit of luck, other times it's about tenacity and persistence. There are however some steps you can take to improve your chances of getting in the newspapers and magazines you want to be in.

Here's my step-by-step guide to getting your pieces published in the right media:
STEP #1 Choose three publications you'd really like to be featured in. Perhaps one local, one regional and the remaining one specialist.
STEP #2 Find out who the main journalists are for each publication and put the information into a spreadsheet along with their contact information. You can usually find this in the paper or magazine, but if you can't, just give the reception a call and ask them about preferred contact methods for a news story.
STEP #3 Add their social media accounts to the spreadsheet, if they have any (they usually do), especially their Twitter and LinkedIn accounts.
STEP #4 Find out all you can about them, looking for any commonalities and connections in common. Start engaging with them on social media, helping them out, commenting on and sharing their updates.
STEP #5 Study the publications you've selected to get a feel for the kinds of stories and news they feature. Try to work out where your proposed story would fit in, and what the style and tone needs to be.
STEP #6 Write your piece in the appropriate style for the publication. Find the right photos that will enhance it. Make sure you keep to the same length as the majority of the other stories: if you're trying to pitch a 2000 word piece when the average is only 500 words, they'll either ignore it, or else your piece will be cut without mercy.
STEP #7 Time to pitch – once you've done your homework, it's time to start crafting your masterpiece. Here's how to write the perfect piece that will first interest the journalist, and then the reader:
Get permission to pitch – use the information you already have about the journalist and write a personal introduction showing you've listened and remembered her.
Draw them in – you need to strike the right note from the start to capture and keep their attention. You need to grab their attention in the very first line and keep their interest so they don't scan to the bottom.
Don't make it all me-me-me – ask yourself, what's in it for my reader to spend their precious time reading this piece?
You're not writing War and Peace – keep your piece to the point and don't overcomplicate it.
Ask for something – create a call to action and a reason to take the next step. Remember: action = motivation – friction.
STEP #8 If your piece is published, thank the journalist, and keep in touch with them to maintain the relationship you now have with them – it could be very valuable to you. Keep pitching them stories, even if they aren't yours, and just be as helpful as you can be to them so that they will value the relationship as much as you do.
Here's a sample pitch with all the right ingredients to get your piece noticed, modified from the original by Hubspot:
FOR IMMEDIATE RELEASE: (DATE)
Contact Name           
Organization (Agency or Company)
Phone Number
Email
HEADLINE (ONE LINE ONLY)
Subhead: More Detail As Needed, One Line Only
Your announcement starts here, and should lead with a strong first paragraph that clarifies what you are announcing, where, and its relevance to your industry. Don't bury the lead: doing so makes it harder on reporters to find the information they need most, so get right to it in the first paragraph.
The second paragraph is the best spot for quotes, but choose your quotes carefully. No reporter likes reading from a sea of people saying the same boring thing. Leverage quotes to build the importance of your story but also to shape your core messages. Whenever and wherever possible, include quotes from customers or partners who will benefit from the news, and avoid extreme exaggeration: having your CEO say that your product is the next best thing to a rocket ship is typically a very bad idea unless you are Mark Zuckerberg.
In the third paragraph it is often tempting to add fluff that doesn't need to be there. It's also often extremely tempting to bleed over to a second page by bolstering the third paragraph with company history, lore, and supporting expert opinions. Keep in mind that the goal of the release is to provide clear, concise context on the story–you can always including more detail or links to additional testimonials in your pitch emails or on your blog. Some additional words of wisdom:
1. Nobody likes long blocks of content, so use bullets to your advantage to break up the text
2. Use language people can actually understand: if you had to use thesaurus.com to find it, delete it
3. During your final edit, be honest with yourself on whether or not you are truly focused on what is newsworthy about this announcement. If not, revise accordingly.
About Your Company: This is a placeholder for a short, 3-4 sentence description of your company along with a link to your homepage. Double check to ensure the first sentence accurately and clearly describes your business in a manner that could easily be lifted and translated by a reporter.
And here's an alternative informal version, suitable for a journalist you know well.
Hi Jo
As per our chat, I've just done some research into what people look for when retiring to our home town of Worthing.
I thought you might be interested in taking a look at or maybe even considering the research for publication in the paper. It turned up some pretty interesting facts (in my view) that I haven't seen anywhere else.
For example, it turns out that retirees to Worthing insist on a built-in dishwasher and would choose that over a new bathroom. And they are also not interested in living near the sea!
The research is gathered from a poll of 1000 people, all living here in Worthing or moving here. It's pretty fascinating stuff, even if you're not a mover.
Anyway, I hope you get a chance to check it out—please let me know if there's anything more I can tell you!
Here's the link to the research paper https://domyresearchpaper.com/
I've written a post on the research and what it means, on my little blog in case you're interested in some background: www.ourblog.com
Cheers,
Sam
This second version is humble, accessible, to the point, and, most importantly, it's informative. Choose wisely when you're deciding which route to take. Consider which one is more on-brand, suitable for the readership of the paper or magazine, and also appropriate for the relationship you have (or don't have) with the journalist.
Contributing articles on a regular basis.
Once you have got over the hurdle of having your first piece published, it's time to ramp things up. Write three more pieces, going for information and interest over company focus. For example, three articles all covering the best time to sell, how to prepare your house for sale and then how to choose an estate agent, would allow you to demonstrate your knowledge and expertise, whilst at the same time, contributing a series of real value to the readership of the publication. Send these into your new journalist friend, being sure to add some other title ideas, and explaining that you'd be very happy to send her an article as often as she would like. A word of warning here: don't add a huge great call to action in the article, or you'll get rumbled. Keep it subtle, with just a sign-off like this:
Guest article by Sam Ashdown of HomeTruths
It would be great to have your photo on there too, but check with the journalist if that's ok first.
A client of mine on the Isle of Wight did this, and still contributes a well-written, well-researched article to his local paper on a monthly basis, which is great, free PR for his company, and more importantly, stops his competitors stealing his spot.
Would like to know how to get started with PR for your estate agency? I'd be happy to share with you the steps you need to take to get your article published, before your competitors pinch your spot. Just answer a few short questions here and we'll book a time in to talk: https://samashdown.wufoo.eu/forms/book-a-call/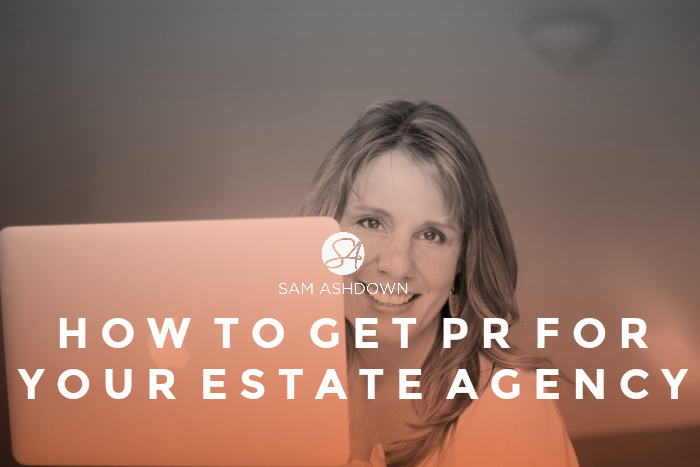 What to read next: A day in the life of a social savvy estate agent.
What to do next: Do you get my Supertips? They're jam-packed full of great tips and marketing strategies just like this one, and best still – they're free! Get yours here -> www.samashdown.co.uk/samsupertips
Speak to Sam: If you'd like to know how I think you could improve your marketing, just answer a few short questions here and I'll tell you if and how you could be more effective.