Just back from London at the weekend, where I had attended the second Property Tech Conference, hosted by Gary Chimwa from Met Events, created to "bring together stakeholders from the property tech sector". With a focus on disruption, innovation and new trends in the property industry, the event lived up to its promise to bring traditional estate agents and technology startups together to network, share ideas and learn about the future of the property market.
The speakers were Hannes Buhrmann, head of innovation at Rightmove , Russell Quirk, founder & CEO of Emoov , Trevor Mealham of INEA , and Bethan Jenkins, cofounderof  CrowdLords.
Russ Quirk, founder & CEO of Emoov, shared some thought-provoking insights into how online agents can not only meet traditional agents' customer service standards, but can exceed them.  With a laser focus on customer experience, eMoov is really flying in the face of the traditional view of the budget online agency, delivering real value and creating memorable customer experiences with his brand.  His slide "It's about the customer, stupid" highlighted his dedication to be the best customer service estate agency brand in the UK.
Hannes Burhmann, head of innovation at Rightmove, talked us through the 12 week process it took to create a new consumer app, currently in beta testing.  The new app will help householders discover what their house will be worth in five years' time.   The development process included conceptualising and testing, guided by the vision of "Creating results doing something different".
INEA's ,  CEO, Trevor Mealham, spoke about his vision of a shared property portfolio that any agent can sell, based on the US's MLS (Multi Listing Service). With big benefits such as more properties to sell and potentially larger commissions, Trevor is confident that one day, all UK property may well be sold in this way.
Bethan Jenkins, the cofounder of CrowdLords. explained her vision of enabling everyone to be a stakeholder in a property, at even the smallest level. Crowdlords'enables active and hassle-free UK property investments' with investors choosing from the portfolio of investment properties on the platform that they wish to invest in from as little as £1,000 per property. With both a share in the rental income and of the capital growth at the end of the term, small time investors should see Crowdlords as a very attractive proposition.
In addition to the main speakers, there was an open mic section at the end, with two minute pitches from new tech start ups, including Sarah Pugh from Renovate Me  – a new portal for agents to advertise only their ripe-for-renovation properties and for buyers looking for a bargain to find them, and most popular man of the night, Will Burton from the Chiphall Group, who had everyone on the edge of their seats with his demo of a new 3D scanning software he's planning to bring to the property market at a very modest fee. One to watch…
This Property Tech event was the second since the inaugural event in February this year. Forthcoming events promise to be increasingly popular, so watch this space.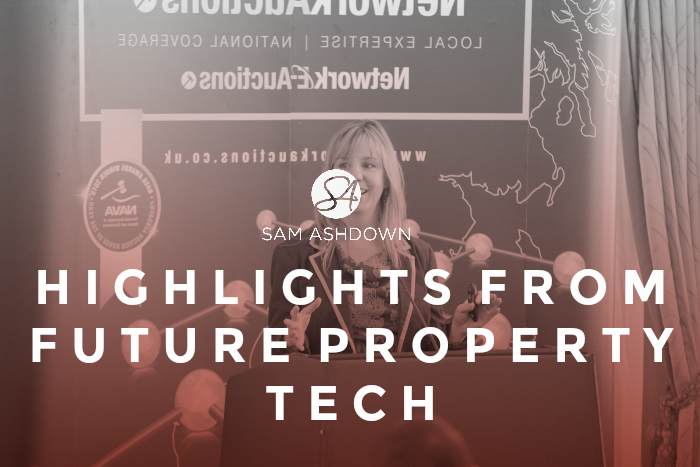 What to do next: Do you get my Supertips? They're jam-packed full of great tips and marketing strategies just like this one, and best still – they're free! Get yours here –> www.samashdown.co.uk/samsupertips
Speak to Sam: If you'd like to know how I think you could improve your marketing, just answer a few short questions here and I'll tell you if and how you could be more effective.