What does social mean, to you? Is it reluctantly attending a networking event, then standing around looking and feeling awkward clutching a cold coffee? Or is it hiding in the supermarket aisle because you've just spotted a client then pretending to be pleased to see them when they find you? I'm sure you're not alone, but today, my friend, it's time to raise your game. Truly.
Today's social is truly social.
It's not enough now to simple have a presence online, today, you need to be social – online and offline. Truly social. 
"I hate social media but I want to look good online".
Sound familiar?
It's something I hear from independent agents a lot.  And this 'hate' has consequences. The number of agents who have a Facebook business page but an empty Facebook profile astounds me. No profile photo; no acknowledgment that they own an estate agent; nothing that will instil trust in – and therefore reassure – a potential client.
Ours is a trust industry.
People want to see WHO they will be doing business with. (Or considering doing.)
You may not like it, but photos of your holiday, your hobbies and your family are all measures of trust to your prospective clients. They want to know who you really are. They want to know you're not hiding or faking. That you're not an extremist – politically or spiritually. They want to know you're like them – that you take your kids to the park on a weekend, and enjoy watching The Great British Bake Off – just like they do.
They want to see YOU.
On your website, you may claim your company is authentic, helpful, empathetic and caring, but that means you need to live those values too. If a prospective client can't evidence these claims from your online profile you're failing at the first fence.
Soundbites sound fake
They're two dimensional, and don't relate to the person they are going to be working with over the next few months to help them achieve something very important to them: a change in where they live.
When I can't find someone on any social platform, I wonder what they are trying to hide from me. It raises my barriers and makes it less likely I'll do business with them. It doesn't have to be Facebook, but out of all the platforms, Facebook tends to encourage openness. LinkedIn and Twitter are easier to be distant on, and Instagram feeds are full of people looking beautiful doing wonderful things, which are sometimes hard to connect with.
The emperor is naked
Am I the only one to dare to say 'the emperor is not wearing any clothes'? I look at the Facebook pages of some the larger industry players and I wonder who on earth put this together? Or, who is advising them so badly?
Sloppy posts, generic content, spelling mistakes, and just generally low-level outputs. Pages full of property ads and me-me-me content. I make the natural assumption that if that's the way they communicate online, they will probably communicate that way in any other form.  I would expect sloppy emails, uninterested phone conversations and unanswered messages. I'm going to presume that their social media is a direct reflection of their priorities as a company; of their core values. And their audience will, too.
Social currency is like real currency
Granted, you can't take it to the bank. But you can put a deposit into your social currency account and expect a return. Let me explain.
I run a business club in Windermere, where AshdownJones is based. To date, we have around 260 business owners in the club. Each one is a micro-business – some solo operators, a few partnerships and several who run small teams, like shop and hotel owners. 
We meet monthly, and brainstorm their business challenges. There's a focus on low-cost and no-cost marketing, and some really innovative ideas and creative alliances always emerge.
Each week, I try to meet at least one or two of them for coffee. I want to understand their businesses better; get to know them. If I know them, I can refer them. The better I know them, the more confident and valuable that referral will be.
But this means they need to be open with me.
So, when they request to join our club, I friend them on Facebook. If they are opaque, and they don't share anything about themselves, it can be a red flag for me. It could just be that they are not confident on social media, and we can work on that in the safe environment of the club. But it could be that they prefer to keep themselves private. Which is not a smart choice when you're a small owner-operator, wanting to grow your business, with a tiny marketing budget.
Of course, I could just refer them for their published skills: "Use Alison because she's a great consultant to the hospitality industry."
But I want to say "Alison is fantastic. She's an amazing consultant, and has won an Eva award. She's local, with two small children, and is heavily involved in the local community so she knows everyone. Would you like an introduction?"
Your online profile is your window to new, better clients who 'get' you
We're not all silos in our own little worlds – we're all connected. The energy that goes around the meetings we have in our business club is testament to that. People want to help each other, support one another's businesses, promote each other's competitions, and generally act as a springboard to the other members. If we all do that, we raise each other's profiles, like "a rising tide lifts all ships".  
That's also why, whenever we plan a competition from AshdownJones, we always choose a local business to approach. They are usually more than happy to donate, and thrilled to be asked. Raising their profile also raises ours. It's a reflected glory in their spotlight.
We also make the effort; where possible we go to the business owner's premises. We take a video of them and encourage them to say a bit about themselves and their business on camera. We put the spotlight firmly on them, so they shine.
What local business owner doesn't want extra publicity?
And when you do have a one-to-one with your local business owner, make the conversation about them, not you. You don't need to tell them anything about your business. Your generosity and time will paint you in the best possible light – the rest they will simply assume.  Or ask.
People love talking about themselves and business owners love talking about their business. Ask them how they set up, how they first got the idea, their ups and downs, what it means to them and their families. Encourage them to tell you stories and anecdotes. Be interested. Really interested. This stuff matters. It matters to them and it should matter to you.
This isn't networking. This is creating a community; a community of business owners who would do anything for one another.
This is how to beat the onlines. And the corporates. And the existing large independents who just don't see the point in spending the time speaking to people one-to-one like this.
To date, I've probably had at least fifty one-to-one coffee meetings (and sometimes, gin-and-tonic-after-work meetings) with local business owners, and our referral network is robust, reciprocated and hugely valuable to us.
The real value of your network lies at the edges
I was listening to an interview with Thomas Power today. He and his wife Penny founded Ecademy – the forerunner to LinkedIn, and some say, the inspiration for it.
Despite their very mixed fortunes over the last 30 years (they had to sell Ecademy when it failed), they both remain passionate about helping small businesses succeed and grow. Putting to shame my 1-2 meetups a week, Thomas aims for four meetups per day with business owners he doesn't currently know. That's eighty a month. Incredible.
He said something very interesting in the interview I was listening to. He said that the real worth of your network comes from the edges. You see, he believes that your network doesn't tell you valuable information because they think you already know. Whereas new contacts you don't yet know, don't know what you don't know, and therefore they will assume you know nothing. (Still with me?) And so they will tell you stories and give you insights you haven't heard before. And that's where the real value lies, Thomas believes. He estimates that he's met around 30,000 people over the last thirty or so years. And that ahead of each meeting, he's super excited about the nugget he's going to learn from meeting this new person.
Could you do this too? Could you aim to meet just one or two new people each week? What would that do for your network?
If you live in an average sized town, there must be at least 1000 business owners living working and running their businesses a stone's throw from you. What would it cost you to spare an hour, buy them a coffee and listen to the story of their business?
What would that do for your business?
You'd be creating your own community, and who knows, in 30 years, you too could have met 30,000 new people. And you'll never need to do any marketing, whatsoever, ever again.
Last month, I was given a referral to an £800,000 home. That's a £12k fee for us. The month before, two homes, worth around £17k between them. And they keep on coming. People love to give me a referral. They present it to me like a gift (which of course, it is). They are excited and proud, like a student presenting their teacher with an apple. I'm hugely grateful, and take them out for a drink to say thank you – and to learn more about their business so I can refer them right back.
Networking at other people's clubs is not the same
I'm incredibly proud of my own little business club. Barely two years old, last month 61 business owners came to the meeting, and we're growing in numbers every single week. At this rate or growth, our meetings will top 100 attendees in the next few months, and we may need to find a new venue – a nice problem to have.
The community of business owners I now call my friends, is priceless. Just this week, I went to a local business show and so many people came up to me – friends old and new – making introductions, mentioning houses they'd spotted that weren't selling, offering valuable insights into our community, and suggesting strategic alliances – all because of my little club. If I attended BNI, 4N or another networking group, even weekly, there's no way I would be considered an influencer and treated as such by my local business community, in the way I am now.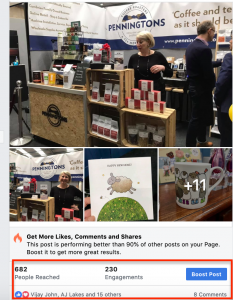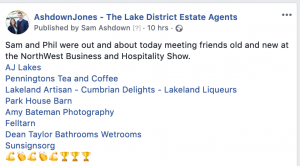 "Out and about at a local business show recently"
So, if you're an avid networker (well done) – maybe it's time to take your community building to another level, and start your own club. Start small – just find a venue and commit to a date – and you may be patting yourself on the back in a few short months when you too have built an amazing, vibrant and giving community like we have.
If you'd like to book a call to discover how I can help you attract and convert the best homes, and to discuss your enrolment into the next Add £100k With High Value Homes Programme, just tell me a bit about your business using this link, and we'll be in touch straight away.
Sam