Guerrilla marketing is one of my favourite subjects, and with good reason. It's all about being creative and daring in your marketing efforts, avoiding spending oodles of cash, and instead standing out head and shoulders above the competition for being innovative and different.
Take a look at your website – on it, do you make the claim that you are innovative? Forward-thinking? Proactive? Prove it! Let's see how brave you really are….
Next blue-sky day, dispatch your best photographer (is this you?) to photograph the front of homes you would dearly love to have on your books, whether they are on the market or not. After taking each shot, pop a compliment slip through the door with a handwritten note that says:
​"Hi, I'm Tom from Mission Impossible Estate Agents. As it's such a lovely day, and we were photographing a home on your street, I took the liberty of photographing your house, in case you decide to put it on the market on a day when the sky is grey. Just drop me an email at tom@missionimpossible.co.uk or call me on 07812 794967 and I'll send it over to you.  Absolutely no strings, just part of the service."
If the house is already on the market, check their front image on your phone before you take the shot, in case they already have a pretty blue sky on their image. In this case, your note could read something like:
"I noticed your current photograph was taken on a grey-sky day. I'd like to give you a new blue-sky image with my compliments. You are of course, welcome to give it to your current estate agent."
Creative? Yes. Daring? Hell, yes!!
But aren't you just helping your competitors by giving them your lovely blue-sky shots? Maybe. But you are also – very importantly – showing them up!! By being creative and generous, the homeowner will think highly of you, and your no-strings policy paints you in a great light.
Agents have such a terrible reputation, that we in the industry fight, sometimes on a daily basis. A guerrilla tactic like this will demonstrate that you have a higher purpose – that you just want to help vendors, whether they are yours or not.
And remember the karma of giving – it will always come back to you.
Sam
If you'd like to have a chat about this, drop me a line at sam@samashdown.co.uk– I'd love to hear from you.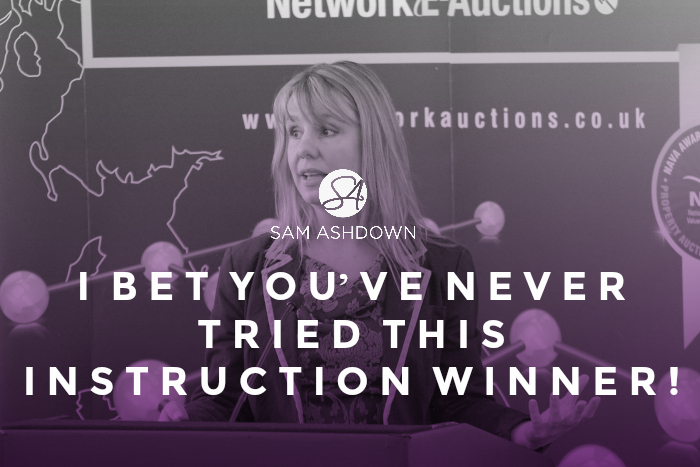 What to read next: How do you get those WOW images?
What to do next: Do you get my Supertips? They're jam-packed full of great tips and marketing strategies just like this one, and best still – they're free! Get yours here ->www.samashdown.co.uk/samsupertips
Speak to Sam: If you'd like to know how I think you could improve your marketing, just answer a few short questions here and I'll tell you if and how you could be more effective.