Are you struggling to get your marketing funnels working for you?
Or perhaps you've no idea what a marketing funnel does, but you know you probably need one?
In either case, this article is going to help you to understand what a funnel is, what it can do for you, and what you can do if yours doesn't seem to be working.
First things first…


What is a marketing funnel?
A marketing funnel is a tool that shows how someone responds to your marketing, taking the journey from being a stranger to a client.
Of course, not everyone will make the complete journey; some people may read a blog post you've written then disappear forever. Others may love your post so much they seek out more, before then going on to check out and like your Facebook page, watch your videos and download your free guide. Once they are smitten, it's a small step for them to pick up the phone to you and arrange a valuation of their home. And given how 'warm' they are now, having consumed all your content before booking the valuation with you, they are much more likely to instruct you, and not one of your competitors.


The old-style marketing funnel
In the olden days (like, five years ago) marketing funnels looked like this: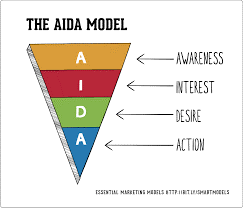 Literally, you would pour prospective clients – vendors and landlords – in the top, and sales revenue would magically tumble out the bottom and into your bank account. All you had to do was make sure enough people entered your marketing funnel to account for the ones that wouldn't make it through to the bottom.

The marketing funnel reinvented

It's much more useful – and accurate – to think of a marketing funnel as a journey, like this: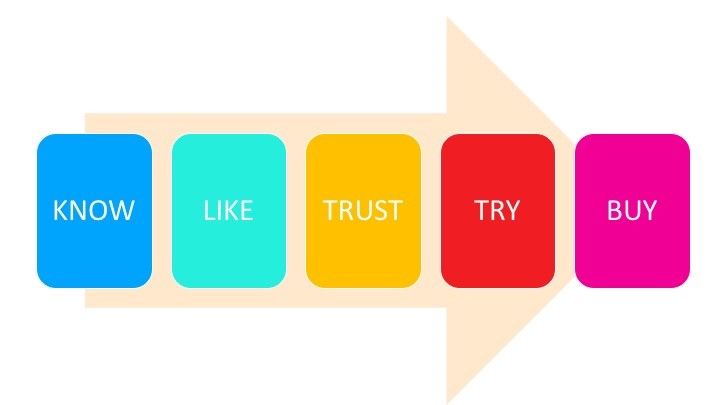 So a stranger to you comes across your content, your Facebook page, or a letter from you – KNOW.
They take an action – maybe liking a Facebook post, or downloading a checklist – LIKE
You have a conversation with them by email or phone – TRUST
They book a valuation – TRY
They instruct you – BUY.
They have taken a journey with you, nurtured at each step.
Our marketing funnels work so well for us, we now have several, for different types of sellers. Almost everyone we go to see has had several touchpoints with our marketing funnels.  They are an integral part of our marketing, and a big part of our success in generating £500k in instructed fees in our first 12 months.
So if marketing funnels are so effective, why are so many independent estate agents still using outdated marketing methods?

Here's what doesn't work:
Spending a ton on Google Adwords
One independent agent in Wimbledon I spoke to recently, spends £800 a month on Google Adwords. This brings her in, on average, two enquiries a month, so £400 each. But these are not quality market appraisals. Anyone who has to type into Google, estate agents in Wimbledon, is probably not the best quality vendor for you. Of course, they could be out of area, but more likely, they are at best, looking for a third agent valuation to make up the numbers, and at worst, simply looking for a transaction at the lowest cost.
Instead try: Google Display Network

Keeping your Rightmove rep happy with expensive extra features
Unless you're a shareholder, don't bother. There are plenty of better places to spend those extra few hundred pounds a month, for a far better return on your investment.
Instead try: nothing – just ditch it
Advertising every week in the paper
(Do people still do this??) Advertising your properties every week in the local newspaper to prove to vendors that you have plenty of quality stock so that they too will want to list their house with you, even though buyers do not read the paper and book viewings through it, is a very odd way of attracting new vendors.
Why not just market to vendors direct?
Instead try: PR
A beautiful and pricey website
One of my clients, Alison, from Bedford, commissioned a website from a local web company for £4,000. Within six months, she'd scrapped it, and built her own, for free, on WordPress. It looks better, and does exactly what it needs to do – capture leads from interested vendors and landlords.
Instead try: LeadPages for landing pages (my affiliate link – thanks in advance)
Complicated customer relationship management software
Another of my clients – Peter from Aberdeen – was using the leading industry CRM software, spending £600 a month on it, as he had a large database. Within a month of working with me, he had cancelled the contract, and switched his email marketing to my recommended supplier, at £12 a month.  It's simpler, easier to use, and has features he needs, that the expensive version did not.
Instead try: Aweber (my affiliate link)
Sending out thousands of leaflets each month
Canvassing isn't dead, but it does need the kiss of life.  If you just keep sending out thousands of leaflets to every man, woman and child in your area on a regular basis, then of course you will get some valuations. Throw enough mud at a wall and it will stick. But whilst you're getting 3 new enquiries from 10,000 leaflets, you're teaching 9,997 NOT to respond to your marketing. Can you afford to burn out your audience in this way?
Instead try: small numbers of direct mail

Time for a change – or become irrelevant
It's time to stop sending out leaflets that people don't want, and paying for expensive print advertising that people don't read.
You need a Complete Content Conversion Funnel
The best content conversion funnels have four moving parts:
1. Subscriber briber
2. Landing page
3. Email nurture sequence
4. Traffic
Step 1 – create a subscriber briber. Something valuable that will motivate a prospective client to exchange their email address for it. Try an ebook, or a checklist, but make it relevant for the target market you want to attract.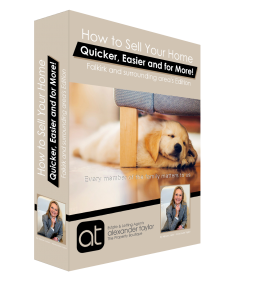 Step 2 – take them to a dedicated page. There's no point in driving website traffic to your home page; there are simply too many distractions on it for them to notice your freebie, and click on it. Create a distraction-free zone, called a squeeze page', and your conversion rate will skyrocket.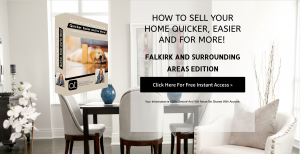 Step 3 – send them a sequence of automated emails – these must be emails that your readers will love to receive. Add it to your email service provider and you have an automated 'touch campaign' to keep you top of mind.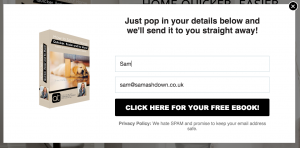 Step 4 – drive traffic – both paid and organic. Eg Facebook ads and a 'pillar' blog post. Facebook ads have risen sharply in price over the last few months. Make sure you know what you're doing so you don't burn through cash, or enlist an expert. A 'pillar' post is a substantial and professionally written blog post that positions you as an expert and creates motivation in the reader to take the next step.
You now have three choices
1. Ignore the above and carry on as before. After all, you're doing 'ok', right? Who's worried about Purplebricks anyway….
2. DIY – figure out how to create the four steps to implement your own marketing funnel. Just don't waste a ton of time and cash in the process.
3. The smart choice – let us create your funnel for you. Here's why:
You don't have the time to create your own. You're supposed to be listing and selling houses.

You don't have the expertise – unless you've spent the last 10 years studying and learning, like we have.

Once you've got your funnel, you'll have it forever. It's evergreen, which means it will never go out of date. Because we've designed it that way. It's an investment for your marketing future.

Your marketing agency – if you have one – won't understand the nuances of our industry like we do.

Don't reinvent the wheel – we've done it, proved it, and now we're prepared to sell you ours, all done-for-you and wrapped up in a nice red bow.
Let's look at the offer:
The Complete Content Conversion Funnel
1. Subscriber briber (digital asset) – guide or checklist –customised for you and your brand"
2. Landing page designed and published – on our platform if you need it
3. Nurture emails x 6 to automate your marketing funnel
4. Pillar blog post – 900 word article for use online and in print
5. Facebook Live script – in case you love video, like I do
6. Promotional tip graphics x 3 – some fancy designed images to promote your funnel
7. LinkedIn article artwork – plus instructions on how to publish (not post) free on LinkedIn
8. Facebook cover art – we can add this for you if you're a real technophobe
9. Twitter cover art – ditto
10. Sting – clever brand animation for you to keep
11. Walkthrough call – so you can ask lots of questions
12. All delivered to you ready to use within 30 days
Choose from one of 5 themes: 
1. Viewings
2. Choosing an estate agent
3. Preparing your home for sale
4. Downsizing
5. General e.g. The Ultimate Guide to Selling Your Home in Bath"
(Or choose your own for an additional fee.)

Your one-time investment
Your Complete Content Conversion Funnel – £1997
Pay once – yours forever.
Optional extras:
Facebook Ads – a series of Facebook ads set up for you and run for 30 days. Plus a handover call so you know what you're doing – £347
Your choice of funnel theme – choose your own, and we'll create it from scratch for just £497 extra
(Note: all fees are subject to vat)

How much time are you spending on marketing that doesn't work?
The average agency owner I speak to is putting in at least 10 hours a week on leafleting, designing print adverts, prospecting calls and trying to figure out social media. And what's really frustrating, is that not only are you spending all this time every week, but you have nothing of substance to show for it.
Think about that for a minute: no more prospecting; no more leafleting. Instead of your team just sitting round waiting for leads, imagine if you could get them through more doors effortlessly, using a marketing funnel that will work for you for perhaps years to come.
Imagine having those 10 hours a week back – for the rest of your career – what could you do with all that time?
Invest now – reap the benefits for years
The Complete Content Conversion Funnel works for every size and type of agency, from Paisley to Portsmouth; Barnsley to Bath. We've even created and implemented a marketing funnel for a real estate client in Chicago.
I've been perfecting marketing funnels for a decade, so that you don't have to.  I've designed them to be 'evergreen', meaning you can pretty much set it and forget it. In fact, my system I created and put in place five years ago still works for me today, and brings in new leads every week; and I haven't touched it since I created it. (Note to self – check it asap.)

Ready to take the next step before your competitor does?
A few nice and easy questions for you to get started:
https://samashdown.wufoo.com/forms/complete-content-conversion-funnel/
Can't wait to hear from you!
Sam 🙂
Questions I get asked a lot:
Q. We have three branches; can we use the funnel across all three?
A. The Funnel will be linked to just one Facebook page, or we can offer you a discount on all three.
Q. Is it exclusive content?
A. Whilst we'll add your branding to your Funnel to make it look like you created it, the content itself is not unique. If you'd like a quote for us to create a unique funnel for you, drop me a line.
Q.  Will my competitors be able to buy the same funnel?
A. You have exclusive use of this content in your competitive area for a period of 12 months from start date.(Date of payment)
Q. How come you're so great at this marketing stuff?
A. I read. All the time. Literally, like 2 books on marketing each week. And I know some even more fantastic experts whose brains I pick regularly.
If you'd like to have a chat about this, drop me a line at sam@samashdown.co.uk – I'd love to hear from you!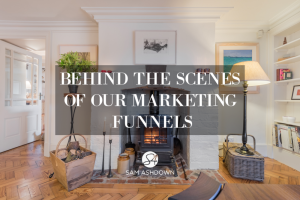 What to read next: What's working right now in estate agent marketing
What to do next: Do you get my Supertips? They're jam-packed full of great tips and marketing strategies just like this one, and best still – they're free! Get yours here -> www.samashdown.co.uk/samsupertips
Speak to Sam: If you'd like to know how I think you could improve your marketing, just answer a few short questions here and I'll tell you if and how you could be more effective.