I'm fascinated by marketing. I love learning about what makes someone respond to this advert, but not that one, and I'm always searching out new and innovative tactics and strategies.
I travel to the best conferences and seminars to learn from the very top people in their fields: in just the last year I've been to Cleveland, San Diego, Florida, Nassau, Toronto and Iceland, and one truth keeps coming up, time and time again:



Successful agents work smarter, not harder.
Simply working more, doing more, marketing more – this isn't going to help you reach your goals. In short, what got you here won't get you there.
"But Sam", I hear you cry, "The phone just isn't ringing."  I speak to letting agents everyday who tell me they are not getting through enough doors, that marketing is getting more and more expensive, and it just isn't working like it used to.
It's true that most traditional methods of marketing just don't work on landlords. New landlords are elusive – after all, there's no point in leafleting their tenanted properties. But contrary to popular belief, they are not invisible. I know there are plenty of data routes to locate landlords so you can bombard them with your marketing materials until they cave, but is that really the best way to begin what could be a long-lasting business relationship? After all, pro landlords are about as loyal as you get, and to try to tempt them away from their current agent is like getting a Mac user to go back to Dell.
Outbound marketing – that is, direct mail, canvassing, print advertising and mass emailing – anything that interrupts what your prospect was doing – is now outdated and rather clumsy.
These are not the answers to a successful landlord attraction system
Spending a ton on Google Adwords – just being found in a Google search for a generic term like 'letting agent Banbury' is not going to reap you hoards of lovely, loyal landlords. It's more likely to throw up someone who isn't interested in service, just a transaction, or worse, you'll be paying for every time a competitor clicks on your ad (happens more than you might think).
Keeping Rightmove happy with expensive added features – I was talking to an agent this week who across his five branches, pays a total of £100,000 a year to Rightmove. That's crazy.  Not least because the results – if there are any – can't be measured. It's just too woolly. Don't think that 'brand awareness' is a result – it isn't. You might be 'aware' of Coke as the world's leading manufacturer of soft drinks, but how often do you drink the stuff? When you're looking at marketing spend, think – can you measure the results? If not, don't do it.
Buying newspaper space each week – do you read the paper? Do you know anyone who does? Newspapers are a dying medium. Sad, but true. Our own newspaper in Kendal – the lovely and long-standing Westmorland Gazette – is now less than a quarter of the size it once was, and it shrinks a little every year. Why would you want to invest your marketing budget in a medium that people are turning their back on?
A pretty, pricey website – your website is not your company brochure; it is a lead generation machine, or should be. And when it works well, it can be the best and most profitable way of generating new landlord leads for your agency. Too often, I see agents with websites that cost them upwards of £5k, that just don't do anything, except perhaps provide a great rental search. But it's landlords you want, not tenants.
Complicated customer relation management software – suppliers like Brief Your Market offer great features and when used to their full potential, it can help you to build an audience and communicate effectively with it. However, most agents never learn how to use it properly and so it becomes an expensive cost, not the lucrative investment it was designed to be.
Sending out thousands of leaflets each month – where are you sending them to? An agent I spoke to recently sends out 10,000 leaflets each month to tenanted properties and rarely gets any response whatsoever. Hardly surprising really.
How much is it costing you right now not to have the right marketing system?
Landlords are potentially more lucrative than vendors, at an average of £1000 per year, per property. Look after your landlord, and that figure will grow over time and provide you with a regular, contracted income for years to come. Let's do the maths:
1. Average fee £1000 pa
2. Conversion rate 65%
3. Revenue per MA = £650 pa
4. 3 new MAs per week
= an extra £100,000 a year
Perhaps your conversion rate is better than 65%, or your average fee is higher. But the answer to building your management stock is clear: just three new market appraisals a week could add at least £100,000 to your bottom line each year, and if you can service this new business with your existing team and resources, that is almost all profit. Happy days.
All you need is the right marketing system.
The system I share with my clients is simple in principle, and when implemented properly, works like a well-oiled lead generation machine, humming away in the background of the business, bringing in new landlord leads and enquiries on a regular and consistent basis.
But what can you do if you don't have a Sam System? We need to talk, but in the meantime, here are the slides for my 5 Step Formula:
My 5 Step Formula To Attract New Landlords
(If you have any problems with the link, just go to my LinkedIn profile and you'll find the slides in my media.)
Your biggest threat isn't where you think
To beat the threat coming from the likes of Airbnb, Easy Property and Move Bubble, you need to find marketing tactics that are streamlined, innovative, low-cost and wherever possible, ones that can be automated and systemised.
Actually, the biggest threat isn't your competition, or these new 'let-for-a-fiver' sites, it's that Landlords think they can do it without you. And the only solution to that threat, is to educate them, through engaging and compelling content. Think Go Compare versus Money Saving Expert – if you want to find the best advice on insuring your teenager's car, or you're looking for a detailed answer to a specific question you have about taking your laptop on holiday, wouldn't you turn to Martyn Lewis rather than the Go Compare guy?
Bet you wish you had started earlier
"The best time to plant a tree is 20 years ago, but the second best time is today"
You need to stop being reactive to a situation like we find ourselves in now, and prepare for the next time this happens, and the next. By implementing these marketing tactics and embracing new media you will be setting yourself up for long-term success that means the next time we have a stock drought, you are better prepared for it. Not only that, but you'll be able to ride out tough times with more success than your competitors, who a probably still using 'Marketing 1999' techniques.
If you'd like to have a chat about this, drop me a line at sam@samashdown.co.uk – I'd love to hear from you!
Looking forward to talking to you.
Sam 🙂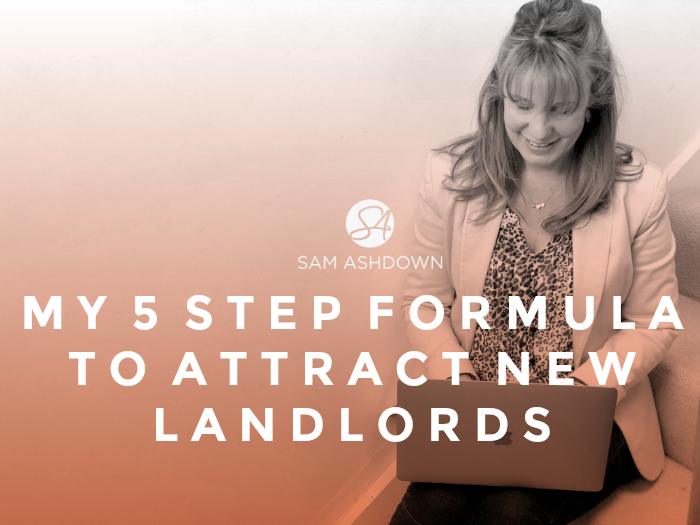 What to read next: Your 7 step client attraction formula
What to do next: Do you get my Supertips? They're jam-packed full of great tips and marketing strategies just like this one, and best still – they're free! Get yours here -> www.samashdown.co.uk/samsupertips
Speak to Sam: If you'd like to know how I think you could improve your marketing, just answer a few short questions here and I'll tell you if and how you could be more effective.