Introducing my brand new SNAP Formula for generating market appraisals in a systemised, consistent way, and an invite for me to help you personally apply it to your business.
Here's your problem: you're brilliant at converting market appraisals to instructions, but can't get through the door in the first place. Sound familiar? If you're not being invited out, how can you build the stock levels you need? Worse than that, not having many valuations to practice on means you get rusty, and your conversion rate can drop. Once it starts dropping, your fees tend to drop alongside, and in desperation, you can lose sight of what a realistic valuation looks like. Overvaluing to win the instruction is a slippery slope, and could give you a whole different set of problems…
But for now, let's just focus on that empty diary of yours, and what you can do to get it filled.
First things first…
Do a marketing audit
Make a list of all your current marketing activities, together with what each one is costing you.  Best to do this on a spreadsheet, so you can also measure the results of each activity, ie how many market appraisals did it generate? If like most people, you have no idea which activity brought you each market appraisal, then take the amount of money you spent on marketing in the last twelve months, and divide by the number of market appraisals you had in the same time period. You may have to simply trawl through your diary to find this number, and when you have, add it to the spreadsheet.
How much should you spend to generate a market appraisal?
 This could very well be a 'piece of string' question, but nevertheless, I'm going to stick my neck out and suggest a budget of £100 per market appraisal is within a sensible ballpark.
I'm currently working with a Peterborough agent who is paying £600+ per market appraisal, and with an average fee of less than £2000, and a 40% conversion rate, this needs fixing, fast.
At the other end of the scale, one of my long-standing and most successful clients is paying around £34 a market appraisal, using a clever Facebook ad tactic, and converting at more than 50%. Happy days.
Once you've done your marketing audit, and calculated how much you're spending to generate each market appraisal, the next step is to create a marketing system.
I've been working on a simple 4 step formula to help you to systemise your marketing so that your enquiries come in consistently, without you having to hustle on a daily basis.  It's really simple, effective and brand new, and this is the first time I'm sharing it with anyone other than my clients!
Introducing my brand new SNAP Formula
 SNAP stands for:
Create a marketing STRATEGY
Apply NEW and innovative ideas
Focus your marketing on generating market APPRAISALS
and develop a marketing PLAN to keep you on track
I've created a series of mini videos to walk you through my SNAP Formula and help get your phone ringing.
Click here to access the SNAP formula video series
Breaking news – SNAP (and Sam) is coming to Manchester on 23rd June – can you join me?
On Thursday 23rd June, I'm putting on a special one-off workshop to show a handful of agents my SNAP Formula, and demonstrate in person how they can apply SNAP to their businesses straight away to generate the market appraisals they need.
Click here to find out more about my Manchester workshop on 23rd June
Usually, the minimum fee to work with me or join one of my programmes is £3000; this unique 'Power Marketing Day' is now on earlybird at just £497 plus vat if you book before the end of May, or £697 if you miss the deadline.
On this day, I will show you the step-by-step process to get your phone ringing with new market appraisals, without you having to hustle every day to make it happen. I'll cover:
Exactly how one of my clients is generating market appraisals at £34 each, using a very simple FACEBOOK AD formula
How to create a REALLY EFFECTIVE one-page marketing strategy to keep you focused on your goals
I'll share with you some NEW and really innovative marketing ideas I know are working RIGHT NOW for my clients
How to focus your marketing efforts on generating MARKET APPRAISALS, rather than trying to build expensive brand awareness
And how to wrap up everything you've learned into a bespoke PLAN you can implement immediately, to keep you on track and accomplishing your goals.
So, I have a very important question for you.
Do you want to join me?  
If you want to know more, here's the link to the information page, where you can see how the SNAP Formula and this super-inspirational workshop could really help you reach your goals in 2016.
Ready to book?
Here's the direct link to the Earlybird page  (*If a competing agent has booked their place already, you'll get an immediate refund)
I absolutely LOVE in-person events – and the agents who participate love them too. They tell me of the support and camaraderie they experience, the importance of working with non-competing agents who have the same problems filling the diary as they do, of how spending time working on their business, not in their business, is the best thing they've ever done.
Here's what some of them have to say about what they achieved:
"Given me so much to think about; there's so much that other agents aren't doing. Most of us are small independents and to have other ideas about how you can get ahead of the competition is fantastic.

Do it, book it, get on it! It will give you a load of ideas and you will reap back the financial element straight away that you put the ideas into place.

Annabelle Jardine-JonesOn The MoveManchester
"It was so ideal working with non-competing agents; I really felt like I could openly ask any question, be honest with my answers and pick up great ideas from other people.

I'd been speaking to Sam on and off for years now and wish I'd done it from the first month that we'd spoken!"

Lucie WishartWishart's Estate AgentsYork
"There's just so many ideas I've learned, now I'm creating a plan to put them all into action. To anyone who's considering doing one of Sam's programmes, I would definitely recommend you come on it. It's vital to get away from your business and the hustle and bustle, and to think carefully about your business, instead of working in it."

Paul LongDrewery Estate AgentsSidcup
I became aware of Sam and her strategies through her Supertips; she is progressive and forward-thinking and nobody in the industry is teaching this stuff. I learned loads – stuff that I think is easy to implement for the business.

Anyone thinking of doing one of Sam's programmes, Do it! I wish I'd done it when I first setup my business, rather than 3 years later as I know my business would be further ahead now."

Ryan WoolfendenLeaders Bournemouth
Ready to take the next step towards a full diary of market appraisals?
So if you'd like to join me and some amazing agents just like you, click the link and decide for yourself if this Power Marketing Day is a good fit for you and your business.
See you in Manchester?
Sam :o)
PS only one agent will be accepted on the Power Marketing Day per competitive area so don't lose out on yours!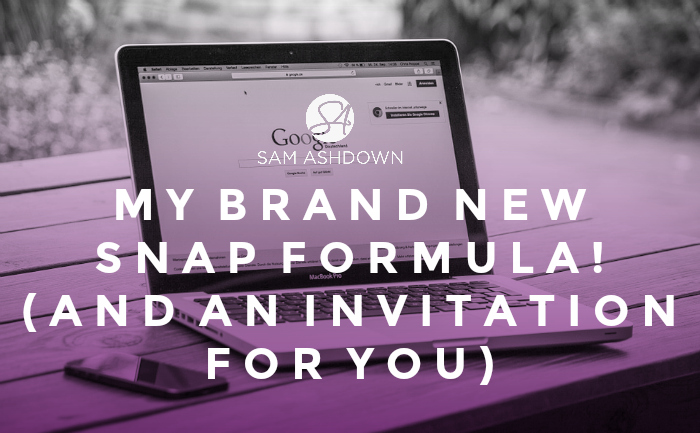 What to do next: watch the SNAP video tutorial series here
Speak to Sam: If you'd like a chat about the Power Marketing Day and check if it's right for you, drop me an email and we can have a chat.