As you may know, I work with agents to grow their businesses, and one of the marketing elements we look at in depth is their website.
Once we get their sites working as they should be, collecting information and delivering great content, then the next step is to drive traffic to it.
I have a whole suite of tactics up my sleeves to generate website traffic for estate agents, but want to share with you here one simple device that brings me in over 1000 new website visitors every single month.
You may be surprised to learn what that device is:
Pinterest
Before you click away from this blogpost with a dismissive huff, let me tell you that the average user is female, well-educated, 30 – 45 years old, and very likely to be interested in home décor ideas. Isn't this the kind of website visitor you'd like to attract?
Your next objection may be that you don't have time to use yet another social media platform, I can tell you that I spend less than 15 minutes a week on Pinterest. That's a hour a month for 1000 new website visitors a month; does that sound like a good investment of your time?
Like to know more?
I've created a mini tutorial for you, to get you started! It's only 16 minutes long, so grab a cup of coffee and a notepad, and discover how you too can win 12,000 new website visitors a year in only 15 minutes a week.
Your Pinterest mini tutorial – click here.
Enjoy!
Sam
PS here's the full link http://samashdown.co.uk/mini-pinterest-tutorial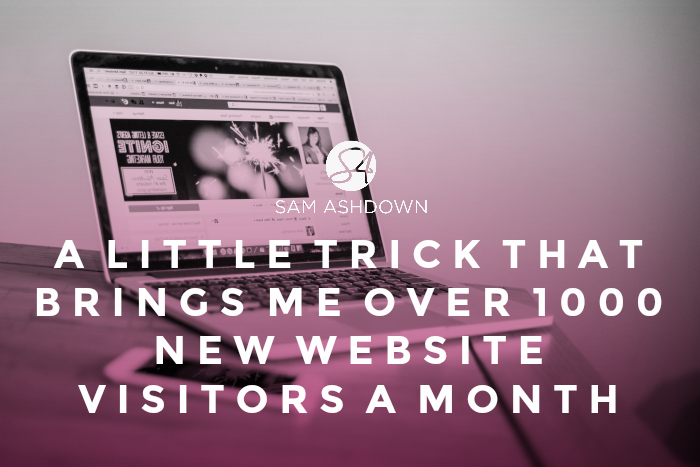 What to read next: I bet you've never tried this instruction winner!
What to do next: Do you get my Supertips? They're jam-packed full of great tips and marketing strategies, and best still – they're free! Get yours here -> www.samashdown.co.uk/supertips
Speak to Sam: If you'd like to know how I think you could improve your marketing, just answer a few short questions here https://samashdown.wufoo.com/forms/free-marketing-assessment-call/  and I'll tell you if and how you could be more effective.