I'm working on a few estate agents' websites at the moment, including one for a real estate agent in Chicago. Your website is such an opportunity to showcase your agency and attract new clients, but most agent websites just miss the mark.
I've put together here my top 5 website tips to help you evaluate your own website, and see if it's actually working for you:
1. Know what you want your site visitors to do – this is what website strategists call having a 'single conversion goal'. In other words, if a visitor only clicks once, where do you want that click to be? The first click is the most important, as it starts building on a relationship – however fleeting – that you have with that visitor, so you need to make every click count.  If you don't want your visitors to be invisible to you, that click needs to be them entering their email address, so offer them something of such high value, that they can't resist giving it to you.
2. Keep your site vendor- (and/or landlord-) focused.  Unless you have too much property you can't sell, of course. Most agents I talk to are short of stock, so check your home page – does it appeal to vendors? Do you have information on selling houses? If not, get some.  There's no point in having a wholly buyer-focused site if it's vendors you want.
3. Be their guide – when someone comes to your house for the first time, you will likely invite them in, guide them to the room you feel is relevant, and offer them refreshment.  Think of your website in the same way.  Invite them in (give them something relevant to click on), guide them to the right part of the site (make sure their journey is easy to navigate with lots of signposting) and offer them something they want (relevant and timely information and advice).
4. Give them something to keep coming back for. There's no point in having a lovely (and probably expensive) site if your visitors simply use it to grab your phone number.  To encourage return visits, you need to update it with relevant (there's that word again) and current content.  You're reading this, aren't you? That's because I write a new article every week to keep agents coming back for more. If you don't yet feel ready to dive into the murky world of blogging, then at least have some vendor-focused tips and information right front and centre of your home page, with a clear indication that you update it often.
5. Learn from the best. There are some changes going on in estate agent website design – it's an exciting time.  Here are the websites I like best at the moment, and that I think reflect the latest thinking in design.  If your website is due for a refresh – or even a reboot – then these may just give you some inspiration.
John D Wood – a screen-filling image and simple call to action defines this great design. My personal favourite, though I'd change the property search box in the centre to something more vendor-focused.
Marsh and Parsons – another great visual site, and the Latest News video blog by Peter Rollings is a very engaging feature.
Haus Properties – loving the grass! Jamie Lester has a real drive to prove differentiation, right from the outset.  If only he'd ditch the property search box….
Ivy Gate – Jason Tebb's new startup venture earned him Best Newcomer at the Times' Awards last year, and with good reason.  Attention to detail, exception photography and a real passion to do things better, are all in evidence on this beautiful site.
Olivers London – a brand new innovative agency with a completely different approach to web design.  One to watch!
Finally, if you'd like to know if your website is working, and if not, how you can fix it, drop me a line at sam@samashdown.co.uk and I'll let you know how I can help.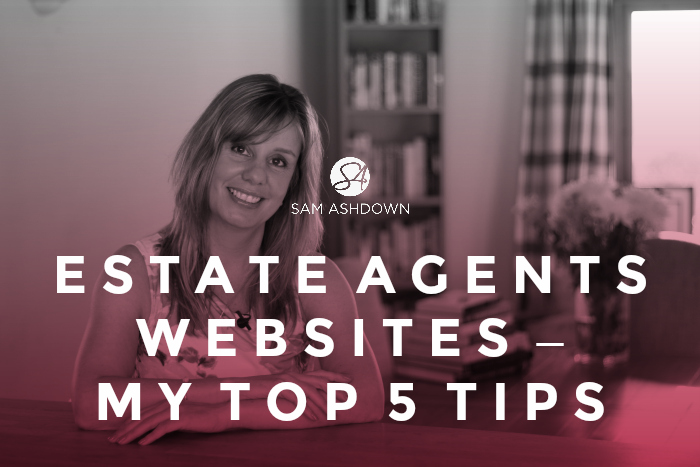 What to read next – Should Estate Agents Blog?
What to do next: Do you get my Supertips? They're jam-packed full of great tips and marketing strategies just like this one, and best still – they're free! Get yours here -> www.samashdown.co.uk/samsupertips
Speak to Sam: If you'd like to know how I think you could improve your marketing, just answer a few short questions here and I'll tell you if and how you could be more effective.
What to watch next: How to get your website found for the right search terms